Featuring a striking palette of rich indigo and navy, this runner can't help but turn heads. Handwoven from the highest quality sheep's wool, a material known for its durability, this rug is made to withstand it all.
Each rug is handwoven by 14 master weavers in Bhadohi, India. From start-to-finish, each rug takes 5 full days to complete. All made in a fair trade environment.
We recommend using a rug pad to prevent wrinkles and slippage.
Also available as an area rug.
2.5'x8'

Rug Thickness: 1/8''
Weavers of Bhadohi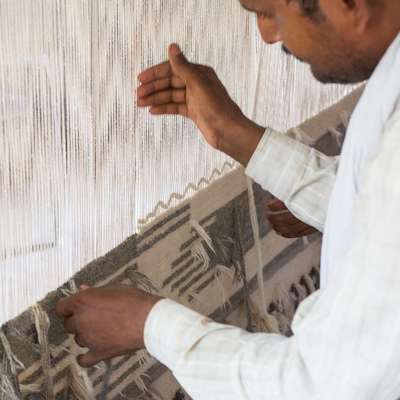 "If there's one thing we know, it's how to make rugs."
Learn More
25° 23' 14'' N
82° 34' 04'' E
Made with higher standards. We preserve artisan craft by paying wages that average 2x the fair trade requirement.
All our rugs are made from the finest natural materials. We choose pure cotton or sheep's wool, dye it carefully, and weave it for strength. Following these suggestions will ensure your rugs can be treasured for a lifetime.
Basic care:
Vacuum rugs lightly and avoid direct and prolonged sunlight exposure.
Treating stains:
If the stain was caused by liquid, act quickly to prevent from drying – use paper towels to absorb.
When in doubt, professional dry cleaning is always going to be your best bet. If you do decide to take matters into your own hands, a few tips for you:
For wine, coffee, or tea, apply a solution of warm water, detergent and white vinegar with a damp sponge. Wipe with clean cloth and let dry.
For oil, chocolate, lipstick, nail polish, or ink, scrub or scrape the stained area first. Then apply a solution of hot water and detergent with a clean cloth to absorb as much of the stain as possible. If required, leave the wet cloth overnight before wiping with a clean cloth to dry.