RUGS 101 // WHAT RUG STYLE IS RIGHT FOR YOU?
Think all rugs are the same? Think again. The good news is we're here to help you break down the differences between all the rugs on your wishlist, explaining the organic materials, traditional weaves, and rich patterns that make each of our handwoven rugs a one-of-a-kind piece of art. From flatweave rugs to plush, textured styles, we're diving into the details behind these handwoven wonders from around the globe.
WHAT SETS THE CITIZENRY RUGS APART FROM THE REST...
METICULOUSLY WOVEN BY HAND
No machine will ever be able to replace the beauty of handcrafted designs. You can trace the precision and care in every knot, weave, and fiber of each rug. Our rug collection is made entirely by hand, woven by true masters of the craft. Each rug can take weeks to complete, all made in a Fair Trade environment. What's more these age-old techniques and small batch production methods are incredibly sustainable, lowering carbon emissions and minimizing waste.
CRAFTED WITH THE FINEST MATERIALS
From locally-sourced wool to all natural, sustainable plant fibers, our rug collection is made with the best materials from around the globe. Our artisan partners go above and beyond to find the highest quality materials designed to last for years to come.
ROOTED IN ANCIENT TRADITIONS
Most "globally-inspired" designs in the U.S. market are either vintage or manufactured in other countries - both of which do nothing to preserve age-old craft traditions that date back for centuries. With our rug collections, we are honored to play a role in keeping these traditions alive. Beni Ourain rugs from Morocco. Kilim rugs from Turkey. Zapotec rugs from Oaxaca. Flatweave rugs from India. Country by country, we travel the globe to preserve ancient cultures and ensure these weaving techniques live on.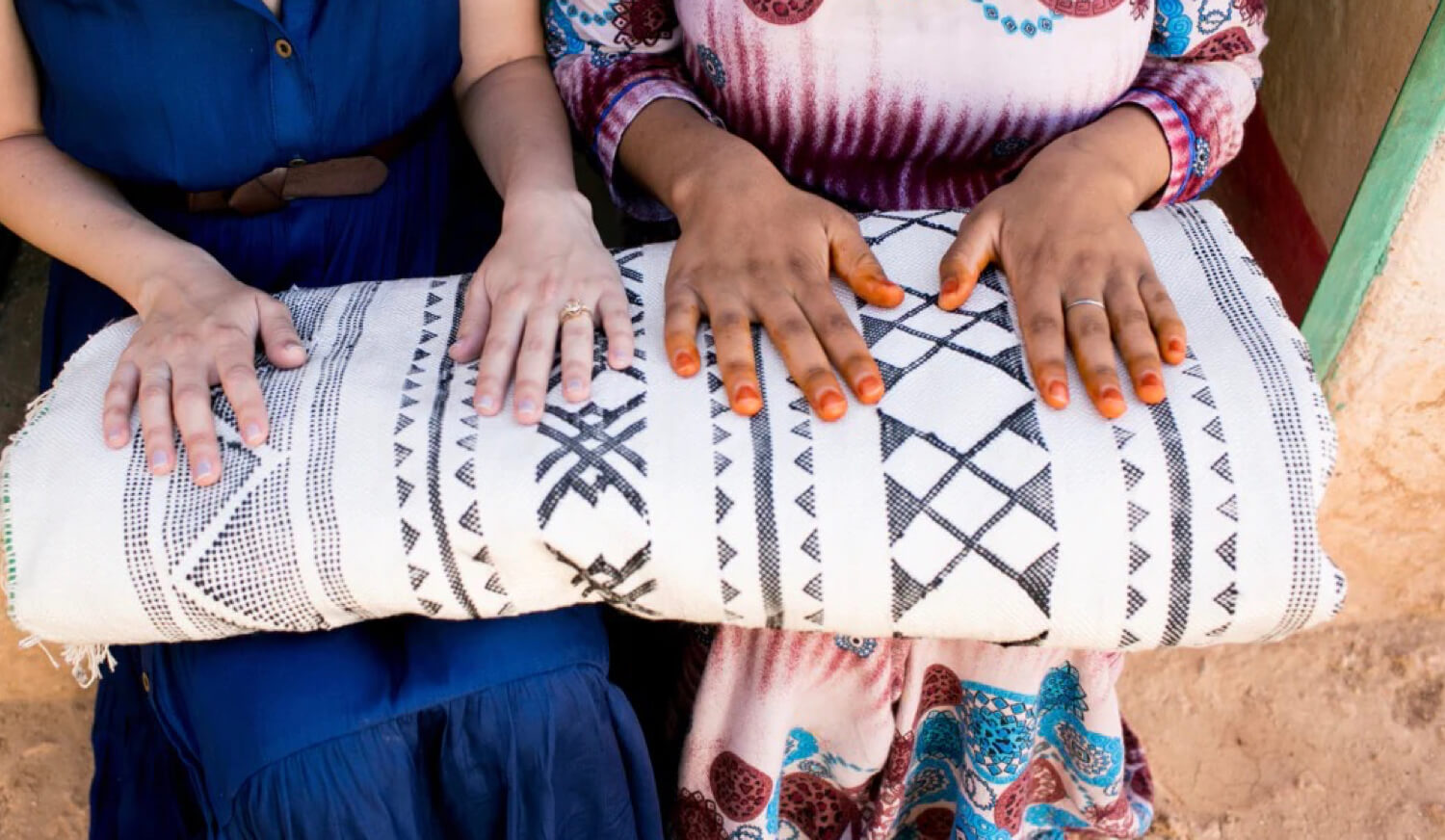 FAIR TRADE. GUARANTEED.
Less than 1% of global textiles are produced in Fair Trade or environmentally stable conditions. That means that 99% of global textiles are produced in harsh, unprotected working conditions, impacting 22 million people every day. We believe that an object is only as beautiful as the environment in which it's made, so we set out to champion Fair Trade working conditions in the artisan sector. 100% of our rugs are made with a Fair Trade process audited and guaranteed by the World Fair Trade Organization, helping set a new standard for social responsibility with fair wages for global artists.
TRAVEL THE WORLD, ONE RUG AT A TIME
FLATWEAVE RUGS FROM MEXICO & INDIA
One of the oldest rug traditions around, our flatweave rugs are woven together with a classic technique that creates vibrant colors with beautifully intricate patterns. Made to last forever, these durable rugs tend to be lighter, more flexible and versatile for a low-maintenance addition to any space. Easy to clean and easy to love, flatweave rugs typically don't shed as much as other types, making them ideal for areas of your home with a lot of foot traffic such as a kitchen rug. Inspired by the rich, intricate patterns of Indian and Zapotec culture, our flatweave rugs are a seamless way to ground any room in your home.
Shop Flatweave Rugs
BENI OURAIN RUGS FROM MOROCCO
If you're looking for comfy, cozy vibes all year round, Beni Ourain rugs are a natural choice for any room. A labor of love that's easy to fall for, each rug is loomed by hand to create a luxe, plush textured rug that you'll want to take a nap on. Crafted to be passed from generation to generation, Beni Ourain rugs can take artisans a month to complete. With anti-bacterial, anti-microbial, and anti-allergic properties, fibers of soft sheep's wool come together to form a high-pile weave that's simply wonderful beneath your feet, especially as a bedroom rug. Often imitated, but never duplicated, Beni Ourain rugs combine a natural palette with their trademark diamond patterns for a look that always makes a statement.
Shop Beni Ourain Rugs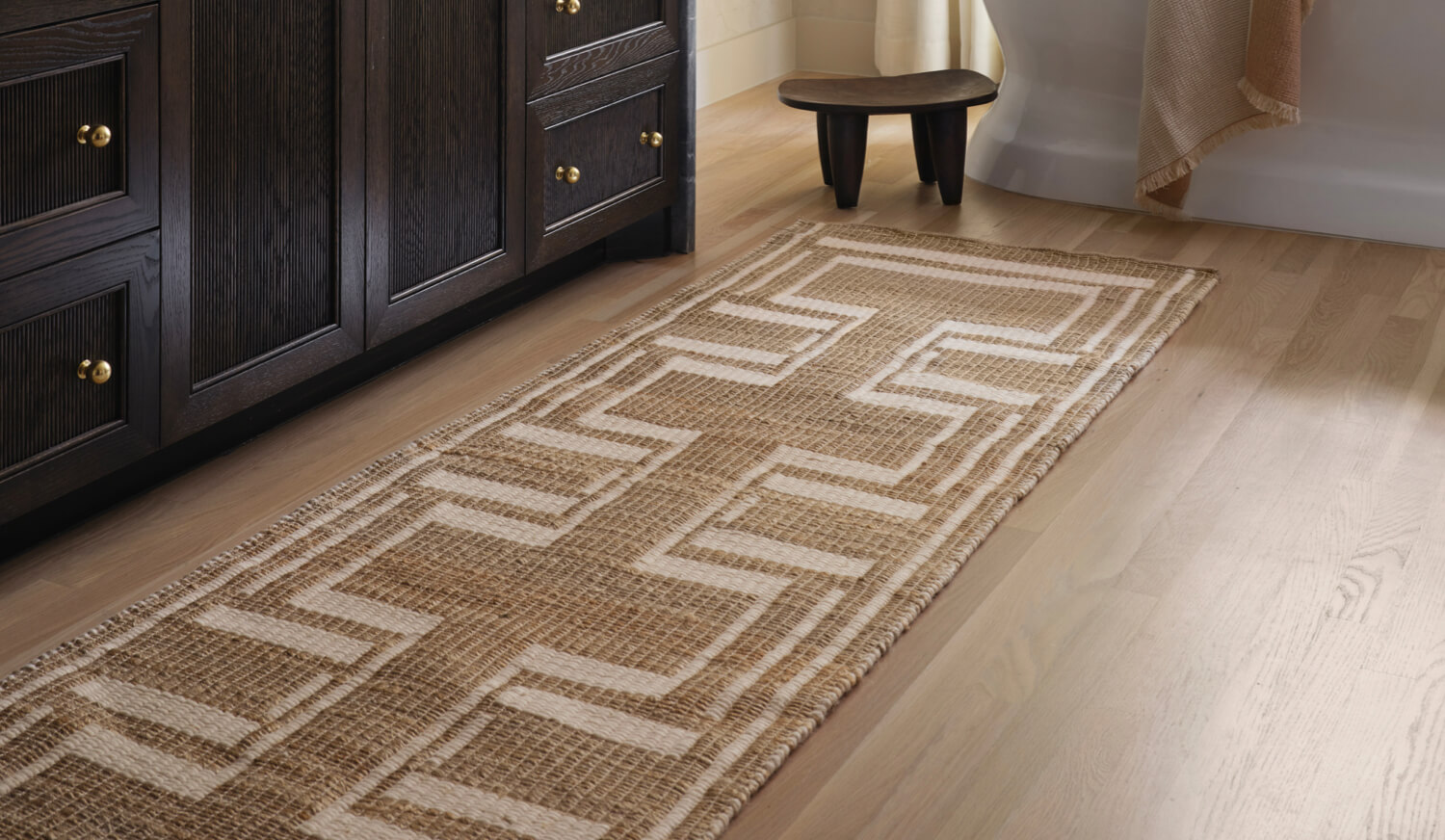 JUTE RUGS FROM INDIA
There's a lot to love about jute rugs. Loved for their natural beauty, jute rugs are made from plant fibers, giving them the strong organic texture that makes them so popular. Less soft than wool or cotton, jute is practical but never prickly, blending in with almost any decor and comes in shapes for any space, like a round jute rug or jute runner. Lightweight and low-maintenance, jute rugs are a sustainable, biodegradable option that can be relied on for years to come. Easy to clean and care for, a quick vacuum or even a good shake is all it takes to keep your rug or runner looking as good as new. An effortless blend of natural form with flawless function, jute rugs check all the boxes.
Shop Jute Rugs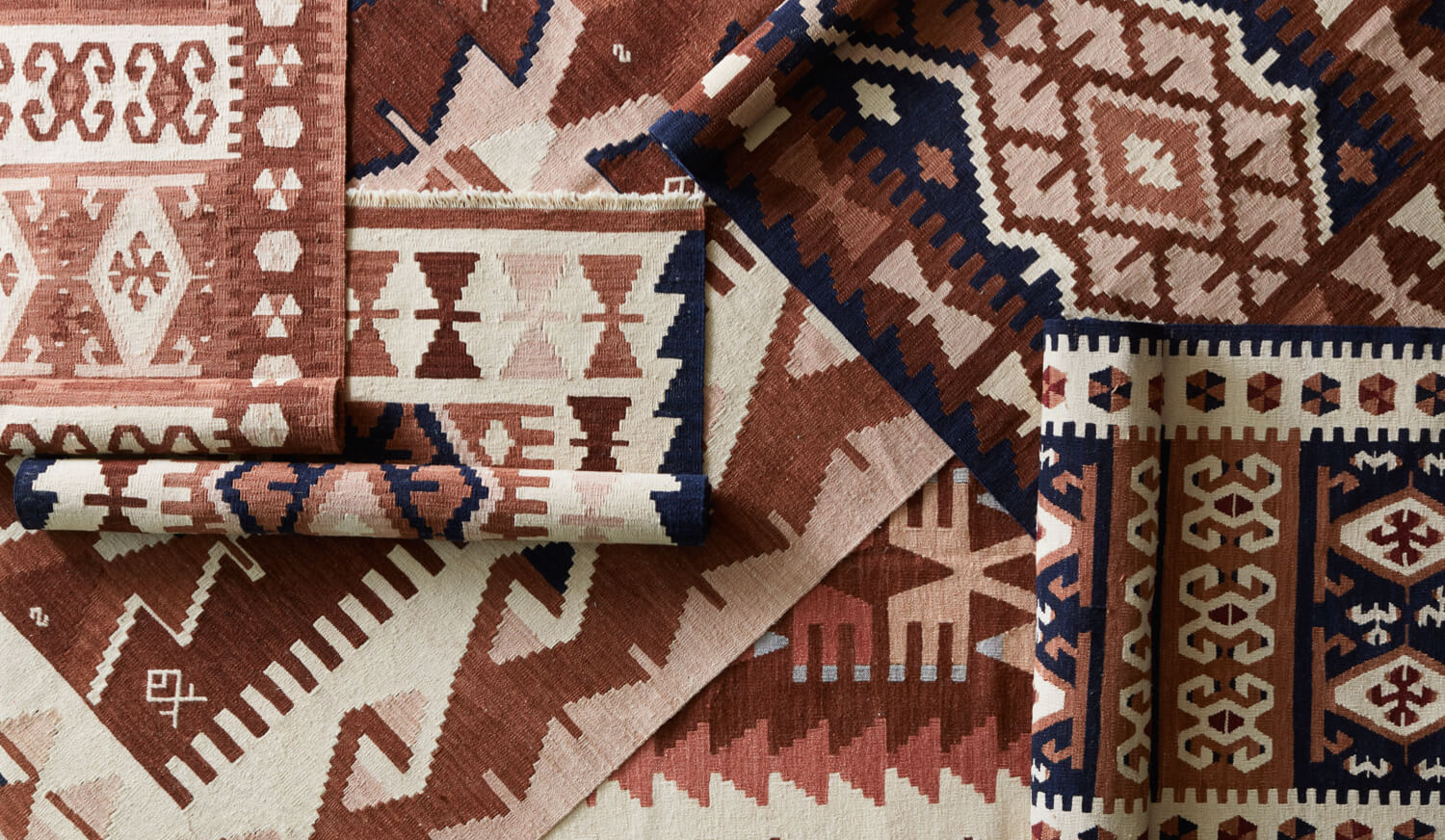 KILIM RUGS FROM TURKEY
It's said that every kilim rug tells a story. Blending warm, earthy colors with ancient, eye-catching patterns, kilim rugs are knotted by hand to create a lightweight, thinner texture that still feels soft beneath your feet. Crafted from supple sheep's wool, kilim rugs have no piles, creating a flat surface that won't collect dust or other allergens making them an ideal living room rug. Full of character and personality, these effortlessly breezy rugs can be incorporated into any space, able to be placed and rearranged with ease. Able to withstand everyday wear and tear, kilim rugs are made to be passed down in families, making them a centerpiece with staying power.
Shop Kilim Rugs
Still wanting more? Shop our bestsellers: