Cordoba Cowhide Rug - Grey - 6' x 7'
Free U.S. Shipping & Returns
Ethically Sourced in Argentina from 
All the way from Argentina, these ethically-sourced cowhides are known for their quality, strength, and durability. So go on and grab that extra glass of red vino - this rug will keep its beauty for years to come.
Each one goes through a complex tanning process and is hand-picked by our design team for size and coloring – no two rugs are alike. From start-to-finish, this cowhide rug is made in a fair trade tannery committed to preserving the finest quality hides in Argentina.
Every hide is ethically sourced as byproduct of the local meat industry. Expect variation in sizing and patterns. There is a range of grey tones, but the overall "brindled" look will be similar to images shown.
Length ranges from 6'-7'
Width ranges from 5.5' - 7'

Ethically-sourced cowhide from Argentina

Grey and cream with light tan accents - expect variation in patterns and tones
Córdoba Cowhide Workshop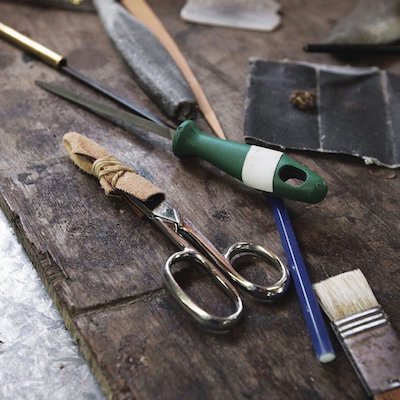 "Each cowhide has its own character, they are diverse like nature itself."
Learn More
31° 25' 12'' S
64° 11' 19'' W
Made with higher standards. We preserve artisan craft by paying wages that average 2x the fair trade requirement.
Our cowhide rugs are made from 100% natural cowhide. Following these suggestions will ensure your rug can be treasured for a lifetime.
Basic care:
Vacuum rug lightly or bring outdoors and shake vigorously
Avoid direct and prolonged sunlight exposure
Do not treat with stain products
If food or other substances dry on your rug, use the edge of a knife to scrape the substance off. Be sure to scrape in the same direction as the hair is lying.
Treat stains with mild soap, warm water, and a stiff-bristled brush. Scrub gently and use a clean, dry towel to absorb any moisture when you're done.
Orders headed to any destination within the continental United States ship for free – wahoo!

It's easy (and free). You can return any new, undamaged items within 30 days of delivery.
To view our full shipping & returns policy, click here.
Customer Reviews
Write a Review
Ask a Question
TB
08/26/2020
Tara B.
United States
Stunning Cowhide- We Will Get More
We love this cowhide for the bedroom. My partner has a severe dust allergy so we needed an alternative to wool that was easier to clean frequently. The color of this rug was even better than I imagined. Highly recommend getting one! I look forward to getting more in the future.
07/12/2020
Sarah F.
United States
Beautiful, unique rug
I was searching for an ethically sourced cowhide rug that would lend an organic shape (rather than a typical rectangular rug) to my small "living room" area in my studio apartment. I was excited to come across this rug, especially since it's so unique in the grey/white coloring, which goes perfectly with my apartment without looking too ranch-like. When I first took it out of the box and tried to arrange it with my furniture, though, I was actually disappointed at first because the shape looked strange, with the small little ends dangling under my couch and looking kind of dangly and try-hard. I looked closer at the display pictures on the site and was frustrated when I saw that to achieve the "casual" look in a living room, you probably needed two rugs layered on top of each other. I was about to return the rug, but then I decided to give it one more try--I shifted it around so that the smaller ends were underneath a skinny chair, and the broader end was under my wide couch. That suddenly looked balanced and intentional, and I immediately decided to keep it. Bottom line - beautiful rug, and if you think the shape won't work for you, try playing around with the arrangement a bit before making up your mind!
12/22/2019
Melissa B.
United States
Awesome find
The rug is really beautiful and worked nicely in our home. The hide markings were unique and it's a good value for the cost.
12/09/2019
Gwyn W.
United States
Gorgeous Cowhide
Super cool, expensive-looking and memorable. I have it layered over another rug and it looks really great. It's big and a lot of cowhide for the money.
11/21/2019
Denisse .
United States
Terrible customer service
I wish I could have actually experienced owning this rug but had to cancel my order unfortunately. I purchased it nearly 3 weeks ago with a guarantee ship date of November 5. I never received a confirmation email for my purchase, after waiting over a week I called for an update and was told it was delayed and would ship November 11, on November 12 I had to call AGAIN for an update since AGAIN I didn't get an email or call stating if the rug had or had not been shipped. When I called on 11/12 I was told that again it was delayed and guaranteed to ship Thursday November 21st. Today is the 21st, I didn't get any email with an update AGAIN so I when I personally called I was told that AGAIN it was relayed and they guaranteed delivery by December 1st. I have a few problems with this, the goods on this website are in fact gorgeous, but NOT cheap. The least this company could do is keep their customers in the loop on what's going on, especially if the dates they are GUARANTEEING are not met. The rep was very fast and east about giving me a refund so I'm going to assume this is normal protocol for them. If you are looking to receive any goods by a certain date I do not recommend you go through these means.
Hi Denisse, We appreciate you taking the time to share your honest feedback. We also want to thank you for your patience during a frustrating experience with the shipment of the Cordoba Cowhide Rug. Items that are pre-sold against certain dates can be subject to change pending any international shipping issues. It is our responsibility to provide accurate, timely updates and we are so sorry for not handing this appropriately. A member of our team has reached out to continue this conversation, so stay tuned. Best, - The Citizenry Team